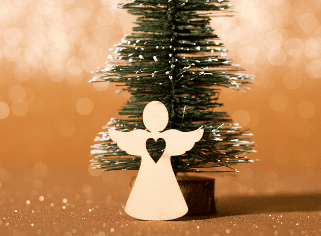 Our annual Angel Tree giving opportunity is happening virtually this year! Through Sign Up Genius, instead of taking a physical tag from the tree, you will select an available ID# and sign up for that individual's wish list. You can access the signup list by clicking here or leave a message at the Parish Office and you will be contacted to assist with claiming your Angel Tree "tag" (ID#).
Returning Gifts
Gifts must be returned by Monday, Dec. 7. Gifts should be returned UNWRAPPED ……gift bags & tissue paper appreciated. Please have the ID# visible with all returned gifts. This ID# is the number associated with the individual's wish list in Sign Up Genius. Gift cards can be placed in Neighbors in Need box located in Gathering Space, dropped in weekend offertory basket or at Parish Office. It is helpful to put gift card and a label with ID# together in a small ziplock bag.
New for 2020
You can support the Angel Tree ministry financially and "Angel" shoppers
will purchase the needed gifts. Contactless drop off on Dec. 5th from 9 am- Noon. St. Nicholas helpers will be available to guide you if you use the church's circle drive facing Brown Street. Questions, call the Parish office at 359-0345.