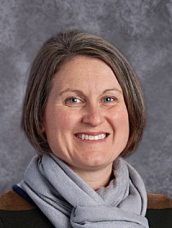 Ms. Amy Paul
8th Grade B
Email
Let me take a moment to introduce myself to you.  I am an active member of Our Lady of Lourdes parish.  I graduated from St. Ambrose with my BA in Elementary Education and an endorsement in Science and Reading and Language Arts.  I am currently enrolled at St. Ambrose for my Master's Degree in Educational Leadership and anticipate graduating with my degree in July 2020.  I have been a teacher at Lourdes Catholic School since July 2004.
I was born and raised in a small suburb of Chicago, IL.  I have lived in Bettendorf longer than my original hometown of Braidwood, IL, so I consider myself to be a Quad City native at this point.  Even though I attended SAU, I am a die-hard Iowa Hawkeye fan and enjoy attending Iowa sporting events whenever possible.  GO HAWKS!  In addition to that, I have been a lifelong Chicago sports fan!  I have two children, Logan and Sarah.  They both attended Lourdes for preschool/PreK and through their early elementary years before deciding to begin school with their neighborhood friends.  Both of my kids keep me very busy on the weekends with their many sports and activities, including football, wrestling, basketball, and softball.
Outside of school, with my family, Sarah is a member of the PV Explosion travel softball team, along with her school sports, and Logan is a member of the Pleasant Valley High School football, wrestling, and track and field teams.  I can be found spending time outdoors when the weather cooperates and love messing around in the dirt of my many flower and vegetable gardens.  In addition to my gardening, I continue to spend some time on various house projects with the help of my dad, a wonderful craftsman.  To help relieve stress, I am an avid exercise fan!  I enjoy biking, walking, and weightlifting.  In any other free time that I do manage to find, I can be found reading, crocheting items for the NICU at the University of Iowa hospital, organizing things around the house, helping with outreach at church, serving as an extraordinary minister of Holy Communion at Saturday evening masses, and sewing, and spending time with friends.
My favorite part of being a teacher at Lourdes Catholic School is the freedom to talk about and teach about God and the Catholic Church.  The students and their families are supportive and helpful and make my day brighter with each interaction.