Where your whole family connects with our parish family…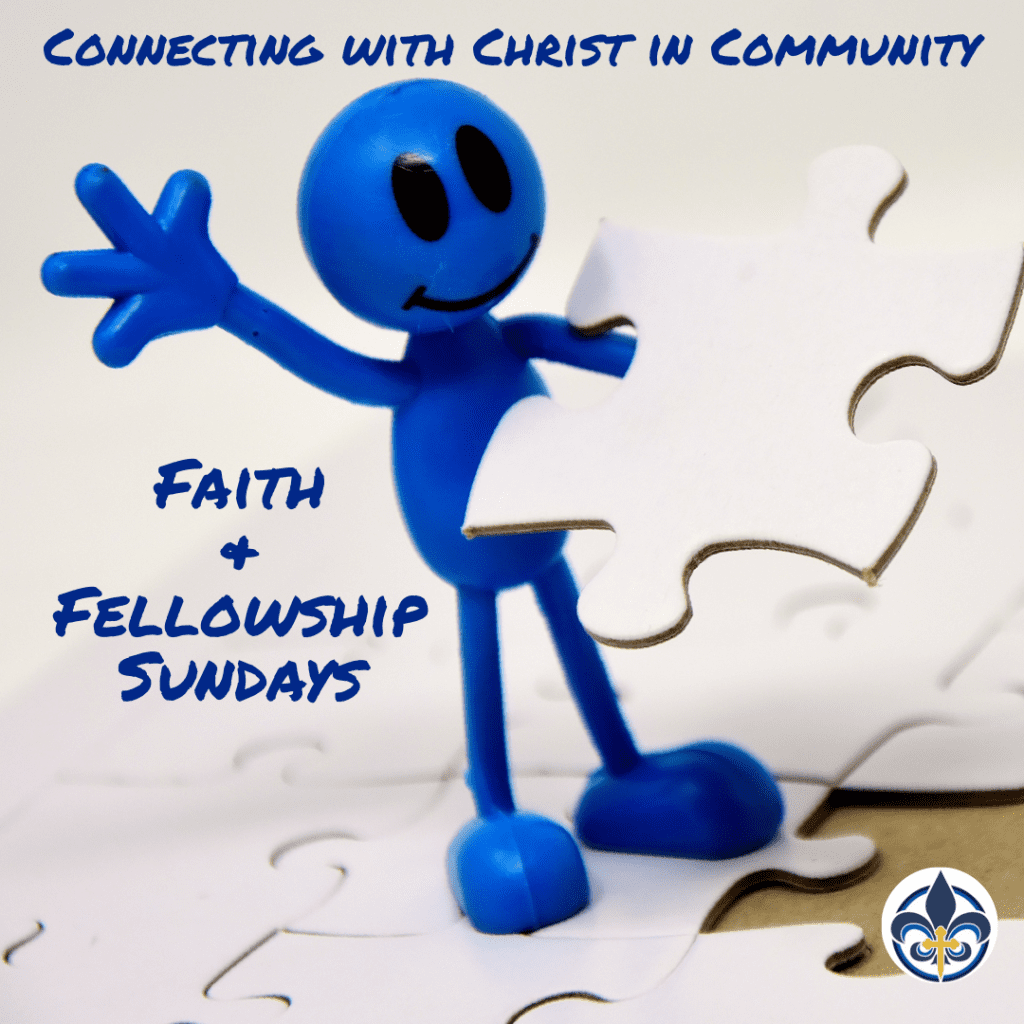 Join us for our final Fellowship Sunday of the 2021-2022 school year this Sunday, May 1st from 9:00-10:15am in the Gym:

May 1, 2022 – Celebrating St. Joseph the Worker & Holy Family
Fellowship Sunday events are held in person in the Gym, but the content/presentation portion may also be streamed live on our Facebook page.
Faith Menu for Sunday, May 1, 2022
8:50-9:35am – Fellowship & refreshments – Donuts, fruit, coffee, & juice
9:35-9:45am – Learning a bit about St. Joseph the Worker & how we can cultivate holiness in our households.
9:45-10:10am – Opportunity for family activities and discussion
10:10-10:15am – Closing remarks & prayer
What are Faith & Fellowship Sundays?
Faith is best experienced in community. This starts with each family or "domestic church" and extends to our parish family, our local community, and even connects us to the worldwide human family and the communion of saints. Yet many families know that sharing faith together is important, but with everyone pulled in so many different directions, it can be a struggle to find time to get everyone on the same page. That's where Faith & Fellowship Sundays come in…
Anchored between our two most popular Sunday liturgies, Faith & Fellowship Sundays are an intentional effort to reclaim Sundays as a day for worshiping God, growing in faith, and strengthening our parish community.
Here are the basics about this new formation initiative for the whole parish:
Faith & Fellowship Sundays will be held from 9:00-10:15 AM, between the 8:00 and 10:30 Sunday morning Masses.
All members of the Lourdes Church and School community are invited and encouraged to attend…and when we say all, we mean ALL!
Religious Ed classes previously held on Wednesday evenings for our K-8 students who attend public schools will be incorporated into Faith & Fellowship Sunday gatherings.
Some Sundays (usually twice a month) K-8th and Confirmation students will meet with their peers to receive grade-specific catechesis in a more traditional classroom format. At the same time there will be offerings for adults' faith formation.
On non-classroom "Fellowship Sundays", all ages will gather for shared learning and fellowship.
View a complete calendar of Faith & Fellowship Sundays and other important events below:
Ready to register?
We have two options for registering students this year. If you plan to have one or more K-8th grade students involved in the Faith & Fellowship Sunday grade-level Grow Groups (formerly Religious Education) click the "K-8th Grade Grow Group Registration". Please note, Catholic school families are welcome and encouraged to sign up as well! If you plan to have one or more middle school or high school student wanting to get involved in either Confirmation preparation or youth ministry opportunities, click the "Youth Ministry & Confirmation Registration". Thus, it may be necessary to complete both registrations for middle school students. There is no registration for the "Fellowship Sundays" or for adults who want to participate in the adult faith Grow Group.
If you have any questions, comments, or if you'd like to get involved as a volunteer to help make these formation events happen, reach out to Emily Andes or Brett Adams ASAP! You can also find out more about the purpose of this initiative by reading the proposal we drafted for Faith & Fellowship Sundays by clicking here.