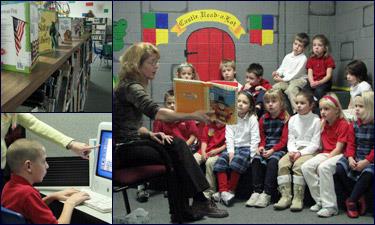 Our automated library offers the latest in materials, resources, and technology. With over 14,000 volumes in our library, we provide a wide variety of books, videos, and magazines available for student check-out. Preschool through 5th Grade students are scheduled to visit our library on a weekly basis. Middle school students are encouraged to visit whenever their schedule allows. An extensive volunteer staff led by a professional librarian provides an exciting learning environment for all students within the school.
Click here to view the Lourdes Catholic School Online Library Catalog
Click here to view the 2019-2020 Library Schedule.
Mission Statement
The mission of Lourdes Catholic School Library is to support all aspects of the school curriculum by providing the best possible services and materials for informational, educational, and recreational use by the school community.
The Library strives to create a vibrant learning and information center for the students and teachers. Our goal is to assist students as they develop into independent life-long learners.
Reading Promotions
Book Fair:
The Fall Book Fair is scheduled for October 1-5. Thanks to all the volunteers who assist with the Fall and the Spring Book Fair each year and to all those who attend and purchase books. Your support has been wonderful and has allowed the library to purchase many new books.
Birthday Books:
For a $5.00 donation, a book can be donated to the library in your child's name and presented to your child to be the first one to check it out. We will send a birthday card with a reminder or you can come anytime and purchase one. It is a great way to support your school and encourage a love of reading.
Volunteers:
Lourdes Catholic School is blessed with a friendly and helpful volunteer staff of over 40 parents. Volunteers assist with checking books in and out for students, re-shelving materials, and assisting students' book selection. Many share by reading to the students while others help by processing materials. We are always excited to have another helping hand! The library volunteer coordinator is Erin Emerle.
Other Reading Programs: