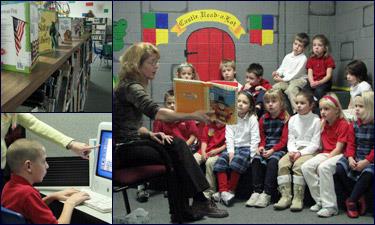 Our automated library offers the latest in materials, resources, and technology. With over 14,000 volumes in our library, we provide a wide variety of books, videos, and magazines available for student check-out. Preschool through 5th Grade students are scheduled to visit our library on a weekly basis. Middle school students are encouraged to visit whenever their schedule allows. An extensive volunteer staff led by a professional librarian provides an exciting learning environment for all students within the school.
Click here to view the Lourdes Catholic School Online Library Catalog
Click here to view the 2022-2023 Library Schedule.
Mission Statement
The mission of Lourdes Catholic School Library is to support all aspects of the school curriculum by providing the best possible services and materials for informational, educational, and recreational use by the school community.
The Library strives to create a vibrant learning and information center for the students and teachers. Our goal is to assist students as they develop into independent life-long learners.
Volunteers
We welcome volunteers in the library and encourage anyone who is interested to contact Erin Emerle, the library volunteer coordinator at erindunn78@gmail.com. She will add you to the email list so you receive the link to the monthly Sign up Genius.
If you are interested, please contact Katherine Wermes in the school office to find out first if your VIRTUS training and background check are up to date.
Battle of the Books
The Battle of the Books for the Eastern Iowa program tests 4th-6th grade teams on their knowledge of the current year's Iowa Children's Choice Award titles. Teams of three age-appropriate students (plus one alternate) are formed within Lourdes. They meet weekly to prepare and then compete against each other the beginning of March. The highest scoring team at Lourdes will advance to the Regional Battle of the Books which will be held on Saturday, March 25, 2023 @ 10:00 am – 12:00 at the Bettendorf Public Library.
Contact Mrs. Rouse or Mrs. Heck to participate!
For information, please visit these websites:
Battle of the Books Details: https://iccabattleofthebooks.wordpress.com/
Iowa Children's Choice Award List: https://www.iasl-ia.org/awards/book-awards/iowa-childrens-choice-4-6
Book Talks: https://wakelet.com/wake/ECI2YqwbShYEXNDAavxB1
Book Fair
The Spring Book Fair will be March 27 – 31, 2023. Thanks to all the volunteers who assist with the Fall and the Spring Book Fair each year and to all those who attend and purchase books. Your support has been wonderful and has provided a variety of resources to our classrooms and library!
Other Reading Programs