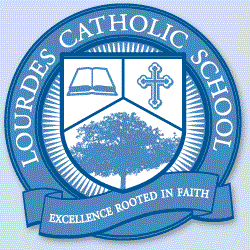 Some of the aspects of a great Lourdes education include:
Click on the links above to learn more about each of these aspects.
Excellence Rooted in Faith
Lourdes Catholic School serves grades preschool through 8th in the Quad Cities area. The state-accredited school, established in 1919, has a long commitment to excellence in faith-based, Catholic education. Here is why Lourdes is such a great investment in your child…
Academics
Outstanding Teachers – Every member of our faculty is fully credentialed by the State of Iowa, and most hold multiple subject endorsements. Lourdes faculty participate in various in-service and continuing education opportunities throughout the year.
Academic Excellence – Standardized testing plays an important role in measuring the academic achievement of our students. Students in grades 2-8 take the Iowa Assessment Test each fall, and our students consistently score higher than the local, state, and national average on these tests.
Above and Beyond the Core Curriculum – Students are able to take algebra (in partnership with Assumption High School) and computer classes as well as participate in mathematics competitions, mock trial, science club, chess club, Robotics competitions, Battle of the Books, academic club, spelling bee, and band and choir through our music department.
Faith
Catholic Education – Students have the opportunity to live their faith daily through religion classes, planning and participating in weekly liturgies, and coordinating special projects that benefit the needs of the community. Fundraisers are held throughout the year for various charitable organizations.
Sacramental Preparation – Students begin preparing for the sacrament of Reconciliation and First Holy Eucharist in 1st grade, completing their preparations with the celebration of these sacraments in 2nd grade. The sacrament of Confirmation is celebrated in 8th grade.
Rosary Celebrations – During the months of October and May, students gather together to pray the Rosary in many different ways, including living Rosaries. Members of the community are always invited to attend the special Rosaries.
Daily Devotionals – Students, faculty, and staff begin their day with a school-wide prayer. There are numerous other opportunities for prayer and meditation throughout the day in the classroom, including before lunch and at the end of the day.
Community
Community Service Projects – Every grade level participates in a community service project each year such as raking leaves for senior citizens, Toys for Tots, Student Hunger Drive, and collecting donations for Ronald McDonald House.
Community Involvement – Members of the community are involved in Lourdes in many ways such as guest readers, tutors, guest artists, and joining various celebrations throughout the year.
Parent Volunteers – Parents are encouraged to take an active part in their child's education through numerous volunteer opportunities. The Lourdes Home and School Association has received a distinguished honors award from the National Catholic Education Association for their "Volunteers in Action" program.
Extracurricular Activities
Students at Lourdes Catholic School participate in numerous extracurricular activities. Organized sports teams include basketball, volleyball, and cheerleading led by community volunteers. These teams compete with teams from other schools in the Davenport Diocese. The music department offers opportunities for students to participate in the Diocesan Honor Band, the SEIBA Honor band, and to march with the Assumption High School Band. Students annually present a Christmas and Spring program. Lourdes has a very active Student Council, which performs fundraising activities throughout the year to benefit various community organizations. Girl Scouts and Boy Scouts have active troops in grades K-8 led by parent volunteers. Students go on local and out-of-town field trips. There are also opportunities to participate in Drama Club (including an annual school play as well as a variety show), Math Counts, and Math Bee.
Come See for Yourself
We invite you to contact us for more information and to schedule a visit to see how Lourdes Catholic School can help grow the roots of excellence in your child.