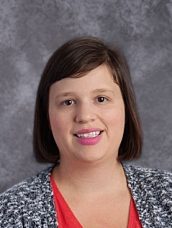 Mrs. Amanda Little
Kindergarten A
Email
My name is Amanda Little. I am in my eighth year of teaching at Lourdes Catholic School.  Previously I taught fourth grade for 5 years and am in my third year of teaching 1st grade.  I've really enjoyed being a part of the Lourdes family!
I am originally from Kansas City, Missouri, but was born in Carrollton, Texas.  I have an older sister, Becky, who now lives in Tennessee. My parents are originally from south-central Iowa and I remember as a young child enjoying my visits with my grandparents and wanting to attend college at Iowa State (even though my parents are Hawkeye fans).  I graduated from Iowa State in May of 2011, and finished my reading endorsement the following July. August 2011, I moved to the Quad City Area (where my husband-to- be, Brad was from) and where I began substitute teaching at Lourdes in the Little Lancer House, the After School Care and in the classroom. February 2012, Brad and I married. Then in November of 2014, we welcomed our son, Shane. Our second son, Oliver, was born in January 2018.
I believe that 1st graders are excited to learn and that this is a crucial and important year for young children! I am excited to be a part of their educational experience and will continue to strive for their educational success here at Lourdes.