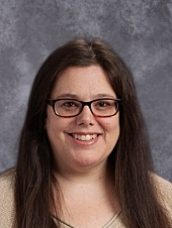 Mrs. Leigh Johnson
Counselor
Email
My name is Leigh Johnson and I am the School Counselor at Lourdes.  I graduated from Grand View University in Des Moines, Iowa in 1996 with a BA in Elementary Education and taught 4th grade in Carlisle, Iowa for a number of years.  In 2007 I received my MS Ed. in Counseling from Western Illinois University and became nationally certified as well. I joined the Lourdes faculty and staff in 2007 and continue to be blessed by being a part of this faith-filled family.
I love going into each K-8 classroom to discuss a range of topics from how to study effectively to building character and being a good friend.  One of my favorite units to do with the students is Career Exploration.  When the students get to 8th grade they get to be a part of our 8th-grade career fair.  It is so exciting to see them learning about the many post-secondary opportunities that are available to them.  I am also the Lego Robotics Coordinator and coach. My team had the honor of representing LCS at the state competition in both 2016 and 2017.
I live in Davenport with my husband Jeremy and have 3 grown children Matthew, Parker (and wife Talia), and Madison, and 2 children who attend Lourdes, Emilee and Levi.  When we are not running the kids to and from after school activities, we love being outside and rooting for the Cubs!