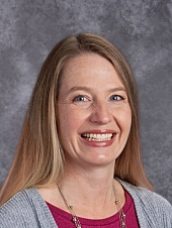 Mrs. Miranda Lawrence
Media
Email
My name is Miranda Lawrence, and I have been the technology coordinator at Lourdes for 18 years.  I love teaching the students about technology, and they are so eager to learn about it.  It's a great combination!   One of the great joys of my job is getting to know all of the students, from the youngest preschool students all the way up through the 8th graders.  I love to see them grow and change throughout the years!
I received my BA in elementary education from Knox College in Galesburg, IL.  Since that time, I have completed numerous trainings and classes to stay up-to-date on the constantly changing world of technology.  One of the newest developments in technology learning is the drive to teach coding to all students of all ages. There are so many new and exciting resources that are really able to get the students engaged and excited about coding, from hands-on robots to programs using familiar characters like Star Wars, Minecraft, and Frozen. The kids love it, and it's exciting to see them so engaged in learning!
My husband, Drew, and I have two sons:  Jack, 11, and Eli, 8, who are both students at Lourdes as well.   Our family stays busy with school and extracurricular activities, and when we have some free time, we love to be outside, swimming, riding bikes, and enjoying each other's company.